If you have followed our blog for a while, you have probably noticed us frequently referring to calls-to-action, also known as CTAs. It may seem obvious what a CTA is, but in this post we will dig a little deeper, examining what, exactly, a call-to-action is, and how to craft and utilize this important marketing tool to generate business leads.
What is a CTA?
A call-to-action can be defined as anything that prompts your visitors, leads, and customers to take a specific action. Notice the word "specific," that is very important as you'll see later on. Having specific CTAs will prompt the visitor to do what is intended to happen next.
A CTA is anything that prompts your visitors to take action.
The "action" that you want your readers to take can vary, from filling out a contact form to downloading an e-book or accessing a coupon. Often times it can be as simple as a "Contact Us" button. How you use CTAs will depend on your exact goals.
Where should you place CTAs?
Contrary to popular opinion, CTAs do not need to be restricted to your "Contact Us" page. Instead, they should be sprinkled throughout your website's pages for optimal marketing success. The more CTAs that you include, the higher the likelihood that you will make a conversion. But be careful how you place them. Remember, you want your CTAs to be a specific and deliberate action.
Example CTA Placement
CTAs can vary, depending on where you are incorporating them into your website, and should be customized to fit with the information on the particular page of use. Let's take a look at our very own website for some examples of well-executed calls-to-action.
Some CTAs on our Wesfed site include a simple contact form, like our home page pictured below…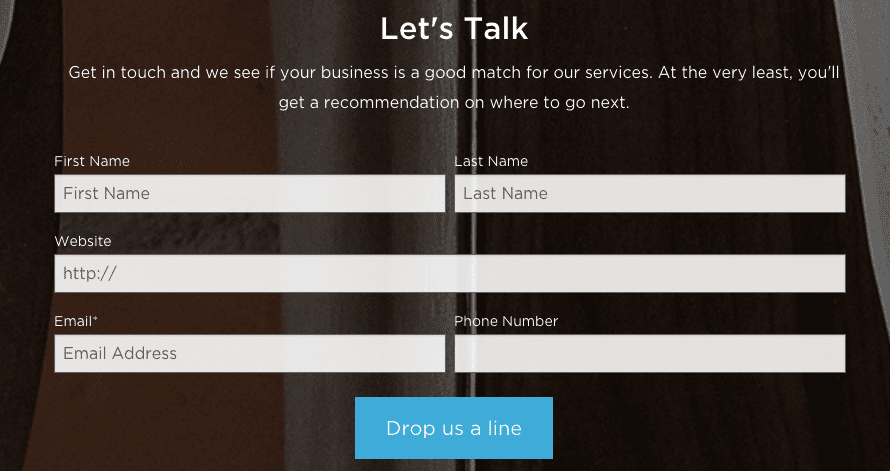 …or a button to download a handy e-book with further information on a relevant topic on a page about Inbound Marketing.

Generate business leads with calls to action
According to Sprout Social, creating a successful CTA "is part science and part art."
When crafting a CTA, the first and most important rule is to focus on telling your reader what they will gain from your product. Instead of focusing on the ins and outs of your services, focus on how your product or service can benefit your reader, and be sure to show them what they need to do to reap this benefit.
Keeping this in mind, follow the below guidelines to develop CTAs that will get results.
1. Utilize persuasive language
In researching the topic, we've found that some of the most action-provoking phrases include words such as:
Free
You
Easy
New
Guarantee
Along these same lines, Hubspot found that CTAs that were personalized (using language like you, your, yours, etc.) were 42% more effective than other calls-to-action.
2. Use language that demands action
If you took middle school English, you probably remember action verbs. When writing CTAs using actionable language, such as action verbs is key. It is essential that you let your readers know exactly what it is that you need them to do to reap the many benefits of your services.
3. Create a sense of urgency, scarcity, or exclusivity
Using words and phrases that make your readers feel like their chances of getting in on a great promotion or deal is a great way to ensure they take action immediately. Chances are if your readers sit around and think about it, they will not fill out your form or download your free guide.
However, using phrases and words that make it seem like the opportunity is slipping away will increase action greatly. Not sure what words and phrases to use?
Try some of these:
Today
Immediately
Now
Last chance
Ending soon
Limited Supply
Tried using CTAs with no success?
If you already have call-to-action buttons sprinkled throughout your website, but feel that they are ineffective, it may be time to re-evaluate your current approach. The low level of conversions could be due to the fact that you're bringing in the wrong traffic. Or, it could be the placement, color, size, wording, or any other endless variation of these.
A big problem we've found is that most websites are not drawing in the intended audience. A company that sells candy bars is not going to have a very successful conversion rate if the people coming to the website are fitness fanatics. It's a no-brainer.
Does your website utilize an SEO service? Have you chosen focus keywords to use in the content throughout your website? If not, you maybe not be pulling in readers to see your CTAs, hence the problem.
A company that sells candy bars is not going to have a very successful conversion rate if the people coming to the website are fitness fanatics.
As we outline in "Outranking Your Competitors", understanding your target audience is a huge first step in getting ranked for appropriate keywords. Proper keyword research will help draw in the audience that is actively seeking your product.
Are your CTAs focused on your target audience? If you haven't developed buyer personas or a target audience for your brand, this may be the issue. Once you clearly define who you are targeting, you can create calls-to-action customized for this audience.
As you can see, calls-to-action are a pretty crucial aspect of every website. Have you tried any of the techniques detailed above on your website, or did we leave out any of your trusted techniques for creating effective CTAs? Please let us know in the comments below!