If you are a small-to-medium sized business trying to compete with larger, established companies, it is essential to use SEO in your favor. Yes, businesses that have been around for a while have time and an established reputation on their side. However, thanks to the shifting landscape of business marketing to the internet, SMB's like you can now compete by using the popularity of search engines like Google, Yahoo! and Bing in your favor.
As an SMB, you may find jumping into the SEO game overwhelming. You may wonder if you really want to add another task to your already busy schedule. But thanks to emerging online SEO tools, investing in your website SEO can be quick, painless and even free!
Below, we share some of the top small business SEO tools that come with a free trial!
1. Moz
This online SEO tool offers many free applications along with some paid options, depending on your preference. Their Open Site Explorer can assist you with inbound link building. It also allows you to track your brand's link profile and compare it to other similar businesses.
Meanwhile, their Keyword Explorer is an easy and quick way to find the keywords you need to attract your ideal customers to your website.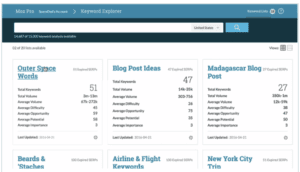 Like many tools out there Moz also offers a free 30-day trial. This is a great way to test out their services to see if they provide the SEO tools that your small business is looking for.
2. Google Keyword Planner
This SEO tool is ideal for small businesses not only because of its effectiveness, but also its price tag. Google Keyword Planner is a useful tool within Google AdWords for evaluating your current SEO campaigns.  This tool also includes valuable resources for discovering new keywords and phrases to utilize in future campaigns.
In addition to easy keyword searches, Google Keyword Planner also allows users to access click and cost performance forecasts along with search volume trends and data.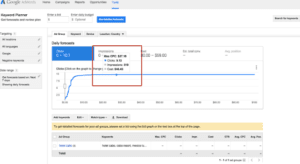 Looking for the trial link? You won't find it. This is an absolutely free SEO tool for small business!
3. Agency Analytics
If you are in need of an analytical tool to evaluate your current SEO efforts, you may want to try Agency Analytics, which was recommended by marketing expert Neil Patel as one of the five best SEO tools for small business owners. This easy-to-use tool allows you to track rankings on both local and global levels, depending on your target audience. Small business SEO tools are most effective when they are easy to use and this platform is one of the best examples of that.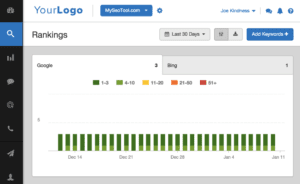 Agency Analytics also offers a backlink tracking tool, social media analytics, and report building options.
Similarly to other online tools, they offer a free trial of 14-days. This allows you to test it out and see if it provides the tools that you are looking for to simplify your SEO management.
4. Raven
Raven includes essential SEO tools for keyword research and link building. It also uses valuable analytical tools that incorporate Google Analytics and AdWords. The tool's Report Builder tool makes creating SEO reports for your own SMB or clients a cinch. They also offer a free 30-day trial if you want to see if it is a fit for your business.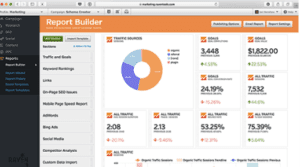 5. WooRank
Do you ever feel like you need an extra set of eyes to take a look at your website's SEO performance? This is where WooRank comes in handy! Their Instant Website Review tool will instantly analyze your website providing valuable feedback on your brand's visibility, SEO, usability and more.

Small business SEO tools like this offer a useful competitive analysis tool which allows you to compare your website keyword strategy to those of your competitors. To test out this option, try their 14-day free trial, here.
Obviously, we are just scratching the surface of web-based SEO tools for small businesses! Every day new and exciting tools are emerging to make SEO easier for overworked small business owners to undertake. Have you tried any of these tools, or had a positive experience with any other SEO tools for your small business? Let us know your feedback in the comments below!