Establishing a strong online presence has become increasingly essential in today's world for connecting with patients and building brand awareness. Fortunately, we are here to help! Our goal is to provide you with the top 5 digital marketing strategies and best practices tailored specifically for the healthcare industry. By using these tips, you can enhance your healthcare organization's online presence and take it to the next level. You'll learn how to leverage
social media
, embrace video marketing, and more. So, let's begin!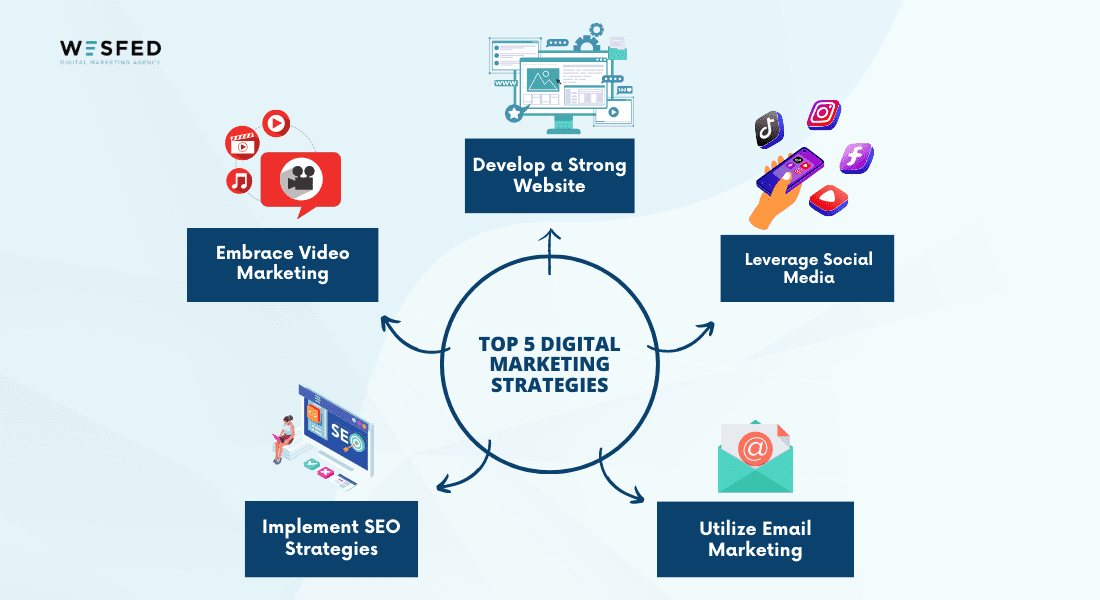 Develop a Strong Website
If you're a healthcare organization looking to establish a solid online presence, then developing a strong website is absolutely crucial. Nowadays, most patients turn to the internet for health information, so it's essential to make sure that your website is easy to navigate, visually appealing, and optimized for search engines.
The Importance of Responsiveness
When it comes to website design, one of the most important aspects is responsiveness. Patients access information from a variety of devices, from smartphones to tablets and desktops. Therefore, having a responsive website that adapts to the screen size of the device being used is essential. This ensures that content is easy to read and navigate, regardless of the device being used.
Why a Clunky Website is a Big No-No
A website that's clunky and difficult to use can be a major pain point for patients. Almost half of those who book appointments online cite this as a major issue. By designing a responsive website, you can ensure that your patients have a clean digital experience that is easy to use and navigate.
Leverage Social Media
In today's world, social media has become an indispensable tool for healthcare providers who want to connect with patients and establish a strong online presence. Platforms like Facebook, Twitter, and Instagram allow healthcare organizations to engage with patients, educate them about health-related topics, and promote their services.
Crafting a Winning Content Strategy
If you're looking to harness the power of social media marketing, having a well-defined content strategy is key. Producing high-quality content that resonates with your audience is essential for building a successful SEO strategy. By consistently creating new and engaging content, healthcare providers can improve their search engine rankings and attract new patients to their websites.
The Power of Personalization
Quality content can also help nurture leads throughout the sales funnel. By creating content that offers a personalized experience for consumers, healthcare providers can engage patients at every stage of their journey. For example, including a simple call-to-action (CTA) at the end of an email update reminding patients to check out your new blog post or social media post can keep your organization top of mind.
Utilize Email Marketing
Email marketing
is a great way for healthcare providers to keep patients in the loop and informed about their services. This cost-effective strategy allows providers to send updates about their organization, upcoming events, and special deals or promotions.
To keep patients engaged and build loyalty, healthcare providers should focus on delivering relevant and valuable content to their subscribers. Newsletters and promotional emails can be used to inform patients about new services, changes in office hours, and other important updates.
When creating content for email marketing campaigns, it's important to make sure it's educational and informative. Topics can range from tips on maintaining good health to updates on the latest medical research. By providing valuable information, healthcare providers can increase patient engagement and build trust with their subscribers.
Implement SEO Strategies
Search engine optimization (SEO)
is key for healthcare organizations to stand out in the digital landscape. With so many competitors vying for top spots on search engine results pages, a targeted SEO strategy can help boost your web presence and visibility.
Start by researching relevant keywords that potential patients, physicians, and healthcare professionals might use to search for your organization. Tools like Ahrefs can help you determine the competition surrounding key healthcare industry buzzwords like "cardiologist in Phoenix, Arizona" or "heart physician in Phoenix, Arizona."
Next, optimize your website's content with these keywords, creating informative and engaging copy that provides value to your audience. Adding an FAQ section to your website can also help improve the user experience and keep visitors engaged. By prioritizing SEO, you can increase your visibility, drive more traffic to your site, and ultimately attract more patients to your practice.
Embrace Video Marketing
Let's talk about video marketing! Videos can be a great way for healthcare providers to connect with patients and build trust. Videos are attention-grabbing and can help patients feel more comfortable with choosing your organization.
There are lots of ways to use videos in your healthcare
marketing plan
. You could make a video tour of your facilities, showcase patient testimonials, or even create educational videos about health topics or procedures. It's important to think about your target audience and what types of videos would work best for them. Younger patients might like short, visually interesting videos that can be shared on social media, while older patients might prefer longer, more detailed videos with lots of information.
By creating videos that speak to your patients' needs, you can showcase your healthcare services in a fun and informative way, while building trust and credibility with your patients. So get creative and start making videos!
Conclusion
So, to sum it all up, digital marketing is super important for healthcare organizations in today's world of the internet. By using these top 5 digital marketing strategies, you can make your online presence even stronger, get more patients interested in what you do, and make your business grow bigger and better than ever before.